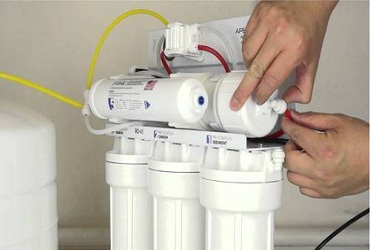 Water Treatment
We sell, install and maintain Residential Reverse Osmosis treatment plants, designed for larger volumes and wall mounted RO water purifiers for smaller volume needs. Our multi-brand retail outlets showcase RO systems from Dolphin, Eureka Forbes and many other top brands.
Our team, performs regular maintenance of RO systems installed across the city, both on call basis and maintenance contracts. Cleaning and replacing of high quality filters, pumps and other peripherals of RO systems manufactured by all brands are undertaken by us.
FAQs
Why should i go for RO treatment plant ?
Hard water although potable and having bearable taste sometimes, could affect your kidneys and cause long term health problems. Furthermore discolored and murky water could imply effluent pollution in your water source and might act as a carrier for water borne-diseases.
Does RO strip water off all minerals ?
No, RO or Reverse Osmosis treatment removes harmful minerals, some minerals that are bigger than water molecule do get removed, RO system removes harmful chemicals using the same logic. World Health Organisation has confirmed that humans get most of their minerals from Food consumed and not from water they drink. So kindly use RO and protect your home.